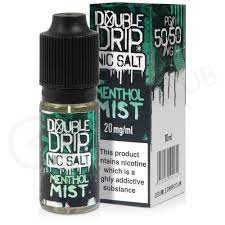 Double Drip Menthol Mist 10ml
Menthol Mist nicotine salt e-liquid by Double Drip takes a twist on the classic menthol flavour, sweetening it with the addition of a peppermint flavour that has subdued floral notes that bring a sweetness to the blend. This is an ideal choice for menthol and peppermint fans alike!
Menthol Mist is a 50% VG e-liquid, which works best in pod devices and vape starter kits to produce a bold and flavourful mouth to lung vape. Available in a 10mg or 20mg nicotine strength, this blend uses salt nicotine which ensures a smoother throat hit.
Double Drip is a UK-based e-liquid brand, committed to using the finest ingredients in their premium grade blends. Their salt nic range features a variety of fruity, dessert and menthol flavour combinations, so there's something to suit most palates.