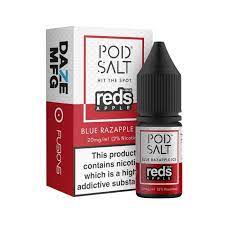 Pod Salt Blue Razapple Ice 10ml
A West Coast Classic
Pod Salt Fusions has teamed up with Reds Apple by 7 Daze to bring you a unique and exclusive blend from the West Coast, California.
Blue Razapple is a classic ice slushy E-liquid. A refreshing sweet mix of mouth-watering berries 
and Red's famous apples. Blended with our award-winning nicotine salt, this slushy sensation was made to be a classic.
The Pod Salt 
range is an exclusive E-liquid collaboration project. Pod Salt brings you the world's biggest brands and blends their signature flavours with our award-winning Nicotine Salt. 
Designed to taste delicious. Designed to Hit the Spot.