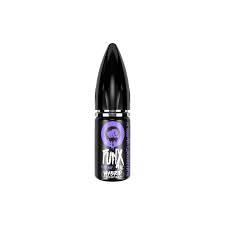 Punx Blackcurrant and Watermelon 10ml
Blackcurrant & Watermelon e-liquid by Riot Squad Punx is a fruit blend known for its overall rich flavour. A bittersweet blackcurrant and juicy watermelon combine for a balanced vape.
Blackcurrant & Watermelon e-liquid uses a hybrid nicotine blend that mixes freebase and salt nicotine. When vaped, you'll still experience the rapid absorption of nicotine that you'd associate with salt blends, with a stronger throat hit like standard freebase blends. Available in 5mg, 10mg and 20mg nicotine concentration.
This e-liquid is 50% VG, delivering rich flavour with reduced cloud creation when used in a pod device or starter kit.