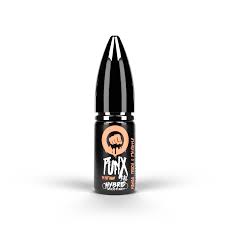 Punx Mango Peach and Pineapple 10ml
Mango, Peach & Pineapple e-liquid by Riot Squad Punx is a fruit medley featuring a combination of tastes. A sweet mango and smooth peach characterise the inhale, before a sharp pineapple complements for a layered vape.
Mango, Peach & Pineapple e-liquid uses a hybrid nicotine blend that combines freebase and salt nicotine. When vaped, you'll still experience the rapid absorption of nicotine that you'd associate with salt blends, with a more noticeable throat feel like standard freebase blends. Available in 5mg, 10mg and 20mg nicotine concentration.
This ejuice is 50% VG, ideal for deep flavour with minimal cloud production when used in a pod device or starter kit.