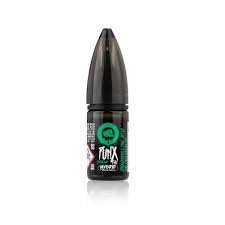 Punx Strawberry and Pink Apple 10ml
Strawberry And Pink Apple hybrid salt e-liquid by Riot Squad Punx is a light fruit flavour that has an overall juicy taste. The sweet notes of traditional summer strawberries are complemented by pink apples.
Strawberry And Pink Apple e-liquid uses a hybrid nicotine blend in a 5mg, 10mg or 20mg strength. When vaped, you'll experience the rapid absorption of nicotine that you'd associate with salt blends, with a stronger throat hit like freebase e-liquid.
This is a 50% VG e-liquid that can be used with a wide range of MTL (Mouth To Lung) vape kits. When vaped you'll experience discreet vapour production and a clear flavour.